OVERVIEW
International Sanctuary is a nonprofit focused on empowering girls and women escaping human trafficking through its worldwide sanctuaries and social enterprise Purpose Jewelry. The organization ran a One Day of Hope Campaign in July 2021 in support of World Day Against Trafficking in Persons on July 30, as well as to boost sales of the specially curated One Day of Hope Collection.
Creative Vortex worked in partnership with Little Red Communications to grow awareness of the campaign and boost jewelry sales through targeted social media and hashtags, an email campaign, and customized website elements. The campaign centered around the following:
Jewelry in the One Day of Hope Collection costing $26, which is the same amount it takes to support one woman a day in their sanctuaries
The words: Hope, Dignity & Freedom
Human trafficking information and statistics

APPROACH
Social Media:
Created a 30-day social media and hashtag strategy with 60+ images highlighting pieces from the One Day of Hope Collection, along with targeted messaging about human trafficking and the organization's mission. Included posts, stories and hashtags.
Email Campaign:
Developed a weekly newsletter highlighting specific pieces from the One Day of Hope Collection and targeted messaging about human trafficking and the organization's mission.
Website:
Designed customized website elements highlighting the One Day of Hope campaign and its key messages.
Branding:
Developed a comprehensive and distinctive brand, including colors, font, logo placement and language to not only marry the campaign to International Sanctuary and Purpose Jewelry, but to also set it apart.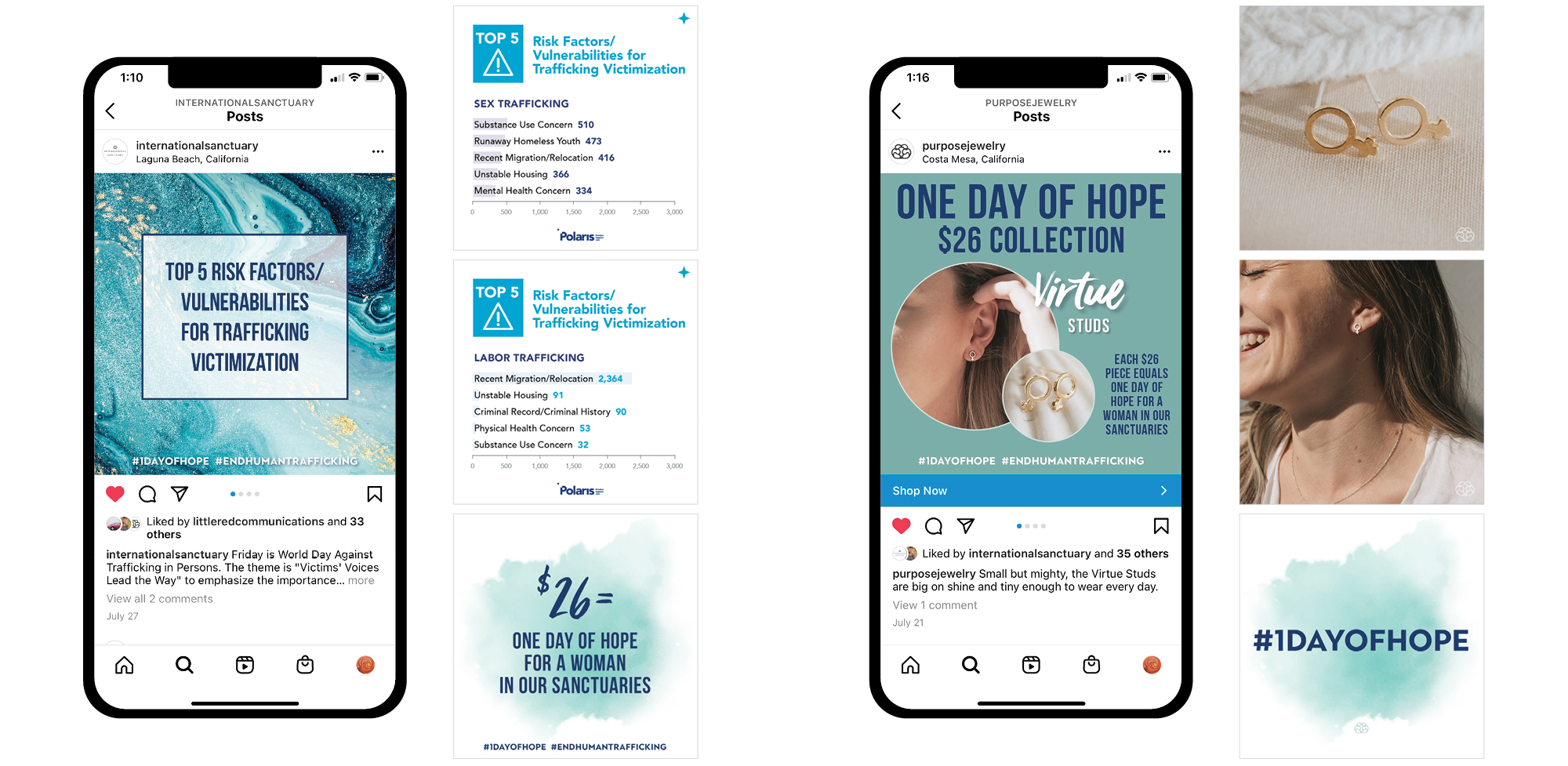 RESULTS
Sales:
Raised more than $23,000 and provided over 910 Days of Hope!
Online Store Sessions = 11,969 / Visitors = 11,017 (increase of 14%)
Total orders = 174 (increase of 4%)
Returning Customer Rate = increase of 31%
$467 in donations from the Purpose Jewelry website shopping cart check out TipGenius widget
$2,186 sales attributed to email marketing (increase of 60%)
$508 in direct social media sales (Facebook increased by 326%)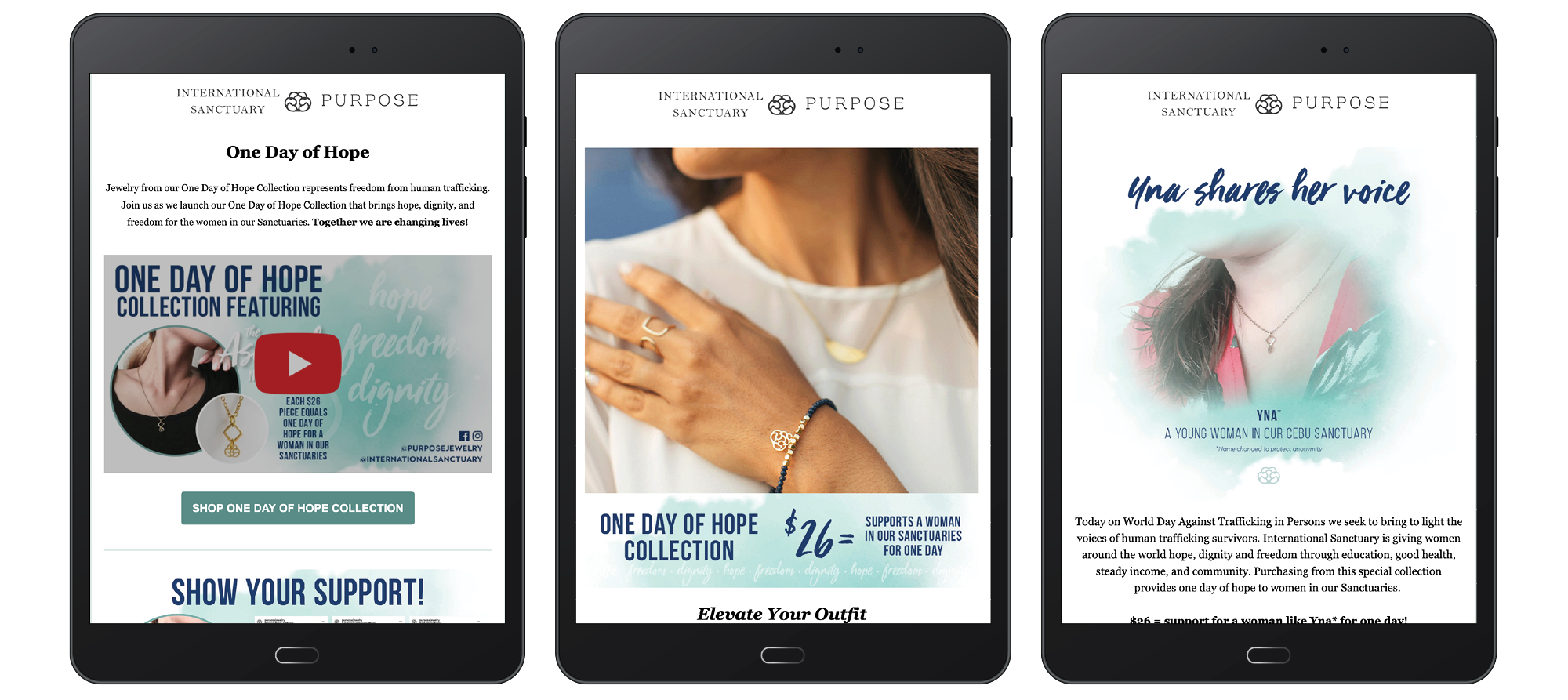 Sales by Traffic Source:
Direct = $20,716
Search = $2,302
Unknown = $716
Social = $508
Top Referrers by Sessions:
linktr.ee = 155 (increase of 244%)
www.internationalsanctuary.com = 113 (increase of 13%)
Online Store Session by Social:
Facebook = 134 (increase of 148%)
Instagram = 37 (increase of 42%)
Online Store Sessions by Device Type:
Mobile = 7,096 (increase of 19%)
Desktop = 4,399 (increase of 7%)
Other= 279 (increase of 7%)
Tablet = 194 (increase of 38%)
Social Media:
@PurposeJewelry / 22 Posts
+8.7% Increased Content Interactions (998 likes, 37 comments, 30 saves, and 18 shares)
+1.7% New Accounts Reached
+125 New Followers
@InternationalSanctuary / 15 Posts
+144% Increased Content Interactions (341 likes, 15 comments, 6 saves, and 3 shares)
+80.1% Increased New Accounts Reached
+38 New Followers
Email Marketing:
Number of emails in campaign: 6 (with resends to those who did not open = 12)
Average open rate: 12%
Average click rate: 0.5%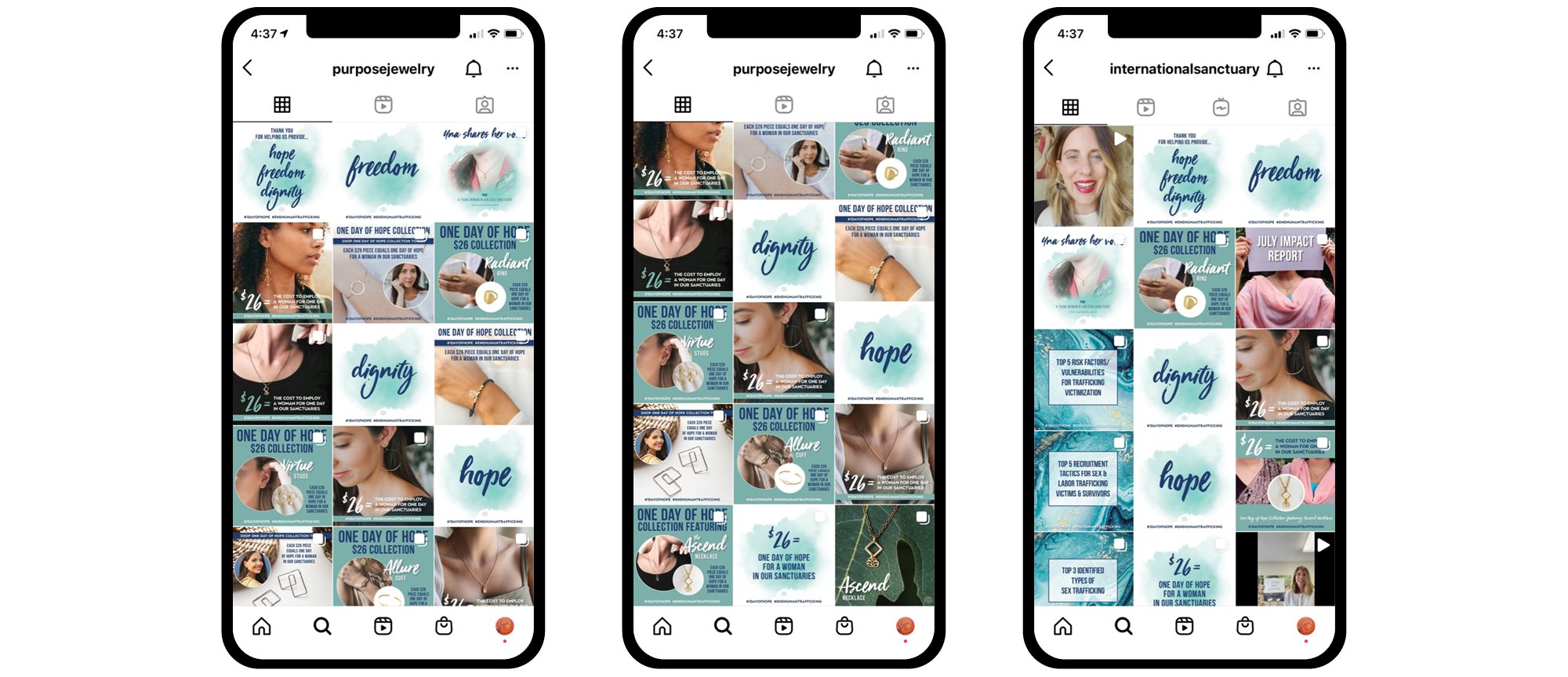 Contact Creative Vortex for assistance in launching your next multi-platform marketing campaign! Learn more about us at creative-vortex.com or check us out on Instagram and Facebook.