Creative Vortex is a strategic partner for passionate people in a wide variety of industries who own the power of their WHY.

Creative Vortex is a boutique creative agency specializing in branding, marketing, and graphic design for established nonprofits, small to midsize corporations and start-ups in Orange County since 2006. The company seeks to be a strategic creative partner for clients and inspire them through a collaborative process to test the boundaries of brand, design, and technology to elevate their brand. A well-established company, Creative Vortex has cultivated synergies with high performing vendors and businesses to provide a full spectrum of services that includes strategic marketing communications, writing/editing, social media, printing and more. Creative Vortex is focused on helping those with small budgets achieve big results through strategic campaigns and branding efforts.
Creative Vortex has worked closely with more than 20 nonprofits in Orange County, including Laura's House, Alzheimer's Association, Orange County Community Foundation, Hispanic Education Endowment Fund, The Salvation Army Southern California, Girls Inc of Orange County, International Sanctuary and Mercy House. Founder Bridget Soden Mills has cultivated a strong understanding of the nonprofit network in the area over the past 20 years and has a solid knowledge of best practices to nurture and grow brands for emerging nonprofits. She works hard to position her teams as extensions of the internal team for her clients.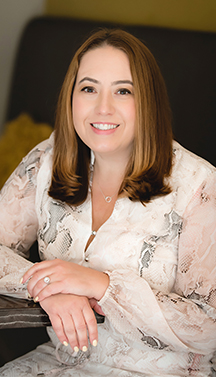 Bridget Soden Mills
principal + creative director
Bridget Soden Mills is recognized by her peers as a leader in branding and design. She has been principal and creative director of Creative Vortex Inc. for over 16 years and serves as a strategic partner to passionate people in a range of industries. Her proven expertise not only is displayed through the energy and attention she invests into her work, but she also has been recognized by design leaders for her ability to create and lead others. Bridget has served as chapter president for AIGA Orange County, The Professional Association for Design, launched Freelancers Union SPARK Orange County in April 2018 and currently serves as the Vice President of Professional Development for IABC OC, The International Association of Business Communicators. Bridget also serves as a key member on the Women Inspire Network (WIN) Committee for the past 2 years. The time she spent as a volunteer leader and board member has made a tremendous impact on how she runs her business and views design.